Your AI-powered code review assistant
Save costly developer time by automating pull request summaries. Open a pull request and get a summary of the changes in seconds. Instantly understand the implications of small pull requests and get a huge headstart on big ones.
Instant Code Refactoring
New!
A lot of time is spent on code reviews with back and forth between the reviewer and the author - often about minor changes that could be done automatically. Just comment on the lines of code that should be refactored with /wtd and describe the changes that you want.
What The Diff will then suggest the changes in the pull request and you can accept them with a single click.
Instant pull request review
What The Diff analyzes the changes of your pull requests and gives you and your team a summary of all the changes in plain english – no need to do this yourself.
What The Diff has been trained with a huge data set of code and supports nearly all programming languages. Install the GitHub app for free and give it a try it on one of your repositories.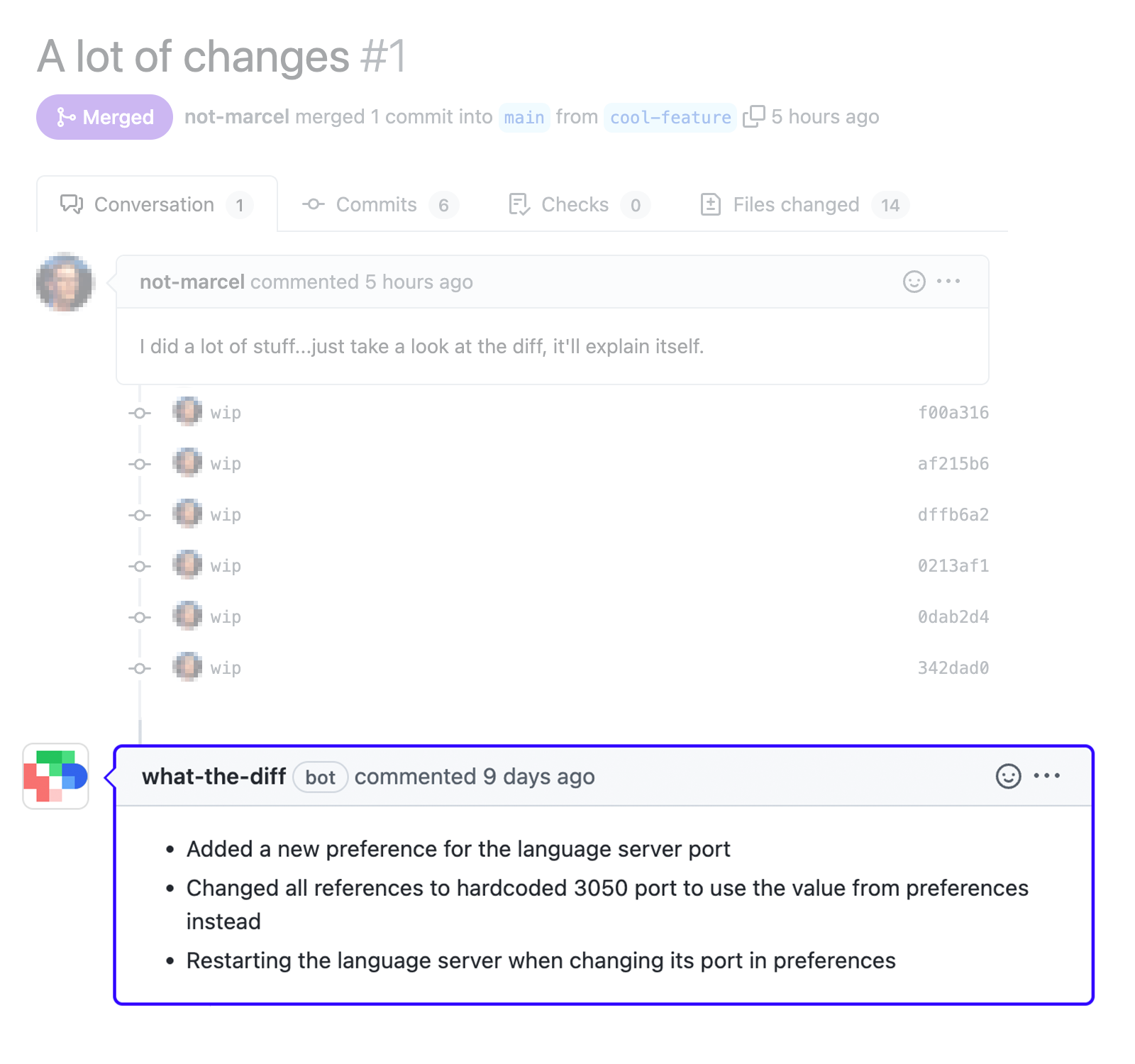 From wip to
summary
Save hours of your time by letting What The Diff generate a summary of your pull requests.

No more trying to understand "wip" commits or "fixes" in the pull request title.
What The Diff understands the context of your changes and will help you understand what - and more importantly why - the changes were made.
Fine grained controls
What The Diff gives you full control over when and how it should analyze your pull requests.
You control which repositories should be active
Configure the comment trigger (PR opened, PR updated, PR labeled)
Ignore PRs from certain branches
Choose which files should be included/excluded from the summary
Generate comments on-demand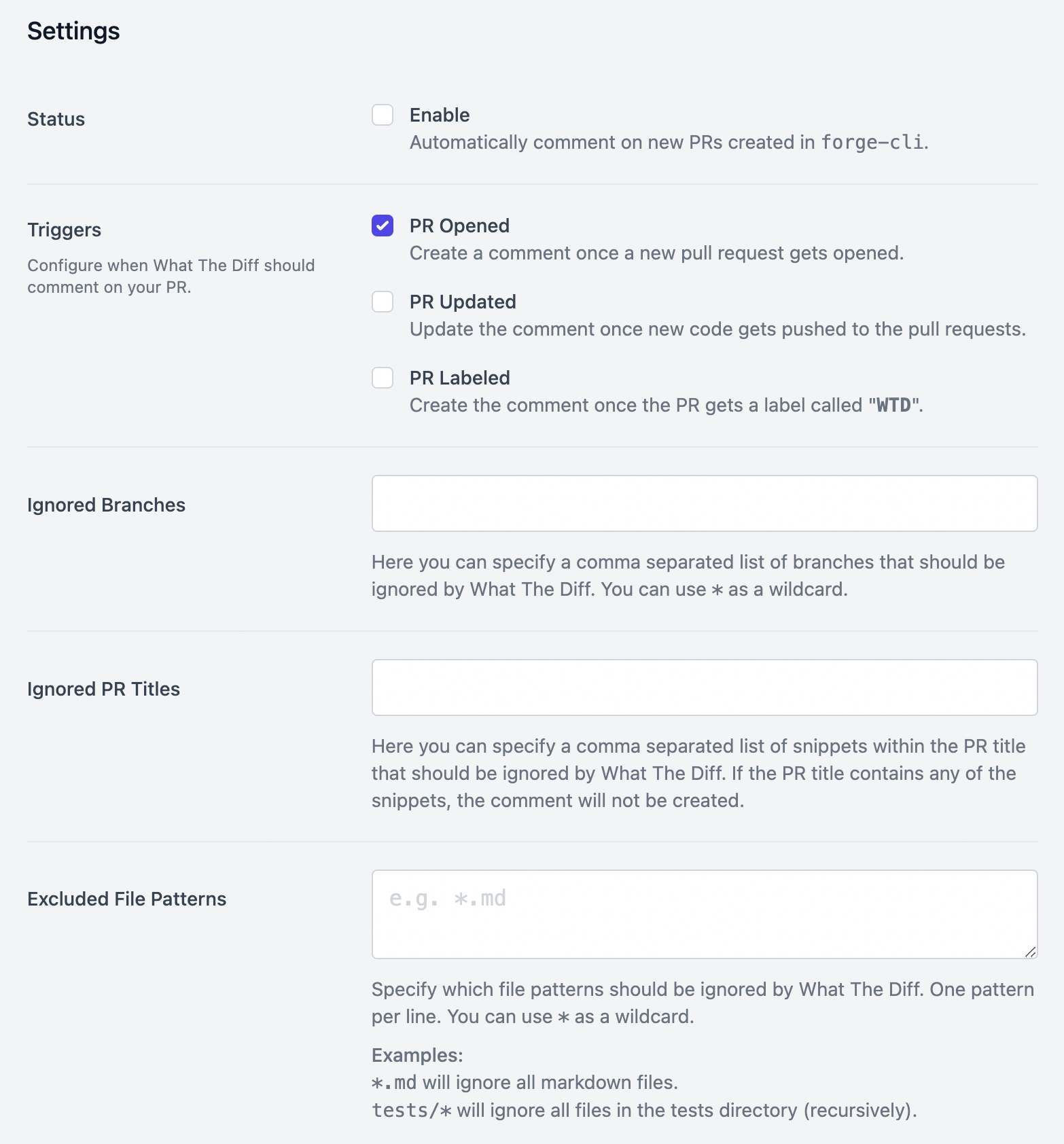 Weekly Slack notifications
What The Diff can send you a weekly summary of all the changes that happened in your repositories, so you can stay up to date with the latest changes.


What-the-Diff changes how teams work
We've helped countless teams to improve their code review and continuous integration process.
Ready to get started?
Save time, get instant code reviews,
and ship better code.
Frequently asked questions
If you have anything else you want to ask, reach out to us.
What is What-the-Diff?

What-the-Diff is an AI-powered app that reviews the diff of your pull requests and writes a descriptive comment about the changes in plain english.

What are tokens?

We process the git diff of your pull requests to generate a descriptive comment. Big diffs need more tokens for processing. Average pull requests are ~2,300 tokens.

How does What the Diff work?

Our application uses the GitHub API to get the diff of your pull request and then uses an AI model to generate a description of the changes. We don't store your code.

Why do you need full access to my code?

Unfortunately, there is no GitHub permission to only read the diff of a pull request. We need full access to your code to be able to read the diff.

Does it work with all languages?

Yes, we support nearly all programming languages and the AI is able to explain the diff in plain english – we don't support other languages for the summary right now.

What happens if I run out of tokens?

If you run out tokens, you can upgrade to a bigger plan or wait until your next billing cycle. We don't upgrade your plan automatically.

Is it 100% accurate?

The AI is still in beta so we can't guarantee that every summary is 100% correct. We recommend trying the free version yourself!

Do you store my code?

We don't store your code nor does any of our 3rd party services. We only use the GitHub API to read the diff of your pull requests.

Is it free?

You can use the free plan as long as we provide it and upgrade to a paid plan if you need more tokens or want to use it on multiple repositories.

Do keep unused tokens add up?

Unused tokens do not roll over to the next month, so make sure to select the smallest plan and upgrade when needed. You can always downgrade to a smaller plan.

How do I cancel my subscription?

Simply log into our platform and click on the "Cancel Subscription" button. You can also change your plan or downgrade to the free version.

Do you train your AI model with my code?

We don't do that and couldn't do that if we wanted – because we don't store your code or diff of your pull request at all.